Disclaimer
All prices and products are subject to change. Our goal is to keep prices and information current and accurate, but errors do occur.
Legal Statement: Auto Performance Engineering's liability for losses or damages arising out of any cause whatsoever, is limited to full refund of the purchase price, or at our option, repair or replacement of the part(s). Auto Performance Engineering shall not be liable for any consequential or incidental damages. Some states do not allow the exclusion or limitation of incidental or consequential damages, so the above limitation or exclusion may not apply to you.
---
Shipping Policy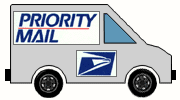 APE uses the US Postal Service [USPS] for most shipping. We utilize USPS Priority Mail for most packages that are shipped inside the US. Packages under one pound are frequently shipped via 1st Class Mail.
A single in-tank pump or a CM30 circulation pump will weigh two pounds when it's all packed-up for shipping. A single FR Series pump weighs three pounds when it's packed for shipping. A CM90 circulation pump weighs about seven pounds.
Folks that ask for Express Mail service need to realize that USPS Express Mail service is only overnight to certain cities. Some cities are two-day delivery. If you don't live in or near a major city, you may need to contact your post office to see if you can get overnight service from zip code 75173. This page can help you decide.
International orders are shipped via USPS Priority Mail International or USPS Express Mail International. We know it's more expensive, but we have experienced troubles with simple Air Mail shipping - lost packages, long delays, etc. It is still cheaper than UPS international shipping.
A single pump is about two pounds when it's all packed up. Click here to get a list of the shipping rates to your country.
The easiest way to get international shippments is to order online. In the 'special instructions' section, to tell us what type of shipping you want. We'll adjust the order when we ship the package.
USPS Postage is printed on our own computers with:

Endicia lets you print postage from your computer. Get free Delivery Confirmation on Priority Mail packages. Even print international postage. Click here to get more info.
---
Return Policy
All items returned for refund must be in new, unused condition. Returns must be made within 30 days of purchase date and must be accompanied with original invoice/receipt. We reserve the right to charge a restocking fee not to exceed 20% of the cost of the product. Shipping fees and/or credit card fees cannot be refunded.
Any defective items that are still under manufacturer's warranty will be replaced with the same or equivalent items. No refunds on defective items returned under warranty.
No returns will be accepted without prior authorization. Call or e-mail for details.
---
Privacy Policy
We will not give, sell, loan, rent or in any other manner, share the information that you provide via e-mail or the online shopping cart.
---
SPAM Policy
If you have received any SPAM or Phishing e-mails which have [anything here]@AutoPerformanceEngineering.com or [anything here]@ape-usa.com on them as the return address, it is a forged address. We did not send those out. We never send any type of blanket or unsolicited advertising. We find those tactics, disgusting, obtrusive, dishonest and a waste of your time - just like unwanted telemarketer calls.
Spammers/Phishers forge email header data like the From:, Reply-To: and Return-Path: lines because they do not want to receive complaints (or have complaints routed to their ISP). They just want your money. They want to remain anonymous so they can continue violating the law and stealing the resources and money of innocent victims. Unfortunately email forgery is simple and commonplace. Forgery of email header data makes it nearly impossible for the average email recipient to complain about or report SPAM effectively. If you can't figure out who really sent you the spam, you can't get them shut down.
If you inspect the extended header information on these e-mails you will see that the return address [anything here]@AutoPerformanceEngineering.com is forged and the e-mail originated from another service provider. Unfortunately, it seems that there is currently NO LAW which prevents a company from stealing a web address and then using this forged address to do their dirty work.
We strongly suggest that you never purchase anything from any company that uses SPAM as a form of solicitation and/or uses a forged address to send out SPAM. Naturally, they want you to purchase products from them, but do not want you to ever be able to contact them if you have a complaint with their product. This assumes that you even receive a product from them. A good chance is that you will receive nothing, and just get your hard earned money stolen.
---
Walbro Fuel Pump Warranty Info
Walbro offers a one year warranty against manufacturing defects on their in-tank and external high performance fuel pumps [i.e. GSS and GSL pumps] and 90 days on their bellows pumps and Series 6000 pumps. Previously, they were very forgiving with their policy. They simply told vendors to return the pumps and give the customer a new pump. Pretty much a "no questions asked" warranty.
In March, 2004, we were told by Walbro that they were no longer going to blindly replace fuel pumps that were declared defective by customers. This decision was made due to an extremely high volume of pumps tested (nearly 98 percent) that proved to be non-defective. Since then, pumps were required to be sent to Walbro for testing. Even though the number of returned pumps dropped dramatically, a vast majority of returned pumps were still found to be not defective. That testing was taking a significant amount of time/effort.
Walbro says that most high-pressure pump failures can be blamed on one or more of the following:
Operating the pump without a pickup filter
Operating the pump in a dirty tank/fuel system
Operating the pump without fuel [i.e. dry]
Operating the pump in a returnless fuel system where the vehicle controls fuel pressure by modulating the voltage to the pump [e.g. '99 up Mustang].
Starting August 1, 2005, Walbro has implemented a $40.00 charge per pump for testing. If you have a fuel pump you believe has failed due to manufacturing defects, return it to APE along with a money order for $40. APE will return that pump for testing. If Walbro determines the pump failed under warranty, we will send you a new pump and your $40. If you can't wait for the test results [usually 6-8 weeks], we will sell you a replacement pump, then refund your purchase price if the pump failed due to manufacturing defects.
---
The Tom Stringfield Notice
Our shopping cart doesn't have a way to compute US Postal Service rates for Express shipping or International shipping. If you chose a shipping option that states "add to bill" or "adjust my bill", then the GRAND TOTAL stated on your order IS NOT your total cost. We'll have to compute your postage fee and add it to your bill.
---
Please read our Policies
© copyright 1999-2017 Auto Performance Engineering