Walbro External Fuel Pumps
Click on the part number of the pump to view a graph of the flow and current-draw of each pump.
Click here for the dimensions of the inline pumps.
If a pump is not ordered with a specific installation kit, it will come with the 400-929 installation kit which consists of a couple wire terminals, nuts & washers, for the wiring, plus special brass washers for the fittings.
Pump
Description
Price
GSL393
flow graph
Strong little EFI pump. OE pump for many Ford applications
$115
GSL394
flow graph
upgrade for GSL393 with amazing shut-off pressure of 130 psi
$115
GSL391
flow graph
similar to in-tank 190 ltr/hr pump
$115
GSL392
flow graph
similar to in-tank high-pressure 255
pump with even higher shut-off pressure
$115
Low Pressure Pumps
GSL395
flow graph
low pressure in-line pump
$115
Specialty Pumps
GSL414
flow graph
Cannondale pump
$155
Pump fittings
The Walbro external fuel pumps do not come with fittings. Each end of the pump has 10mm x 1.0 internal threads. If you don't already have fittings, or can't find them elsewhere, see if any of these will work.
Fitting
Description
Price

128-3012
Bundy Style
$5.00


128-3014
9mm barb
$6.00


128-3015
12mm barb
discontinued


128-3023
10mm threaded
$6.00


128-3024
8mm barb
best fit for 5/16" hose
$5.00


128-3025
12mm OD
$4.00


128-3026
15mm OD
$4.00


128-3027
12mm banjo
$6.00


128-3028
14mm DIN
$4.00


128-3039
AN-6
$8.00


128-3040
AN-8
$8.00


128-3041
12mm female
$4.00


128-3042
14mm banjo female
$6.00


128-3057
10.5mm barb
best fit for 3/8" hose
$4.00


128-3075
12mm threaded
$4.00

Pump Accessories
Walbro makes additional items that may help with an external pump setup.
Mounting Hardware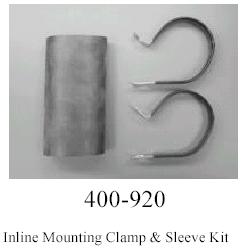 This little kit has a foam sleeve to isolate the pump noise and vibration. The kit also includes a couple clamps to secure the pump - $5.
The foam sleeve in the kit above makes the pump 50mm in diameter. You can get that sleeve by itself for $2
In-Tank Pick-up Filter
If you mount one of these pumps inside a fuel tank and want to attach a pickup filter directly to the inlet, you will need one of these pickup filters. Walbro makes this filter to press directly onto the 128-3025 fitting - $7. Does NOT include 128-3025 fitting.
Fuel Pick-up
The fuel pickups now have their own page. Click here to check them out
Installation kits
Walbro makes kits of fittings and all other parts required for a simple replacement of original external fuel pumps.
Application
Comments
Price

'85-'87 Merkur XR4Ti
'84-'85 Thunderbird/Cougar
'83-'84 Mustang/Capri 3.8L or 5.0L
'85 Mustang/Capri 2.3L Turbo
'84-'86 LTD/Marquis
'85-'87 Topaz AWD
'86-'87 Aerostar 2.3L
'85-'89 Bronco
'85-'89 Ranger
'86-'88 Bronco II 2.9L
'85-'89 F150
'85-'89 F200/250
'87-'89 F300/350
'88-'89 F450 Super Duty
'89-'91 F53 Stripped chassis
'86-'91 E150
'86-'91 E200/250
'87-'91 E300/350
Replaces Bosch
9 580 810 002
9 580 810 020
Installation parts of GCL601

a.k.a. 400-897
Use with GSL393 for performance of GCL601
$10.00
Replaces Bosch
0 580 254 911
0 580 254 945
0 580 254 946
0 580 254 950
0 580 254 951
0 580 464 030
0 580 464 034
0 580 464 040
0 580 464 041
Installation parts of GCL602

a.k.a. 400-888
Use with GSL393 for performance of GCL602
$20.00
Replaces Bosch
0 580 463 010
0 580 463 011
0 580 463 012
0 580 463 013
0 580 463 014
0 580 463 015
0 580 463 016
0 580 463 017
0 580 464 008
0 580 464 013
0 580 464 014
0 580 464 015
0 580 464 016
0 580 464 019
0 580 464 020
0 580 464 023
0 580 464 032
0 580 464 033
0 580 464 038
0 580 464 048
0 580 464 050
0 580 464 051
0 580 464 056
0 580 464 070
9 580 810 046
Installation parts of GCL603

a.k.a. 400-889
Use with GSL391 for performance GCL603
$15.00
Replaces Bosch
0 580 254 909
0 580 254 931
0 580 254 932
0 580 254 934
0 580 254 949
0 580 254 957
0 580 254 958
0 580 254 958
0 580 254 960
0 580 254 961
0 580 254 962
0 580 254 964
0 580 254 965
0 580 254 966
0 580 254 967
0 580 254 967
0 580 254 969
0 580 254 970
0 580 254 971
0 580 254 972
0 580 254 980
0 580 254 981

Installation parts of GCL604

a.k.a. 400-890
Use with GSL392 for performance of GCL604
$15.00
Replaces Bosch
0 580 254 910
0 580 254 921
0 580 254 922
0 580 254 927
0 580 254 928
0 580 254 942
0 580 254 943
0 580 254 952
0 580 254 956
0 580 254 973
0 580 254 974
Installation parts of GCL605

a.k.a. 400-891
Use with GSL394 for performance of GCL605
$15.00
Replaces Bosch
0 580 464 021
0 580 464 024
0 580 464 025
0 580 464 027
0 580 464 028
0 580 464 037
0 580 464 042
0 580 464 044
0 580 464 069
Installation parts of GCL606

a.k.a. 400-892
Use with GSL391 for performance of GCL606
$20.00
Replaces Bosch
0 580 464 029
0 580 464 039
Installation parts of GCL607

a.k.a. 400-936
Use with GSL393 for performance fo GCL607
$15.00
Replaces Bosch
0 580 254 976
0 580 254 982
0 580 254 984
0 580 254 996
Installation parts of GCL608

a.k.a. 400-937
Use with GSL393 for performance of GCL608
$15.00
Replaces Bosch
0 580 254 975
Installation parts of GCL609

a.k.a. 400-938
Use with GSL392 for performance of GCL609
$15.00
GCL610 replaces Walbro 531, 532 and 5530
GCL612 replaces Walbro 5501
Installation parts of GCL610 and GCL612

a.k.a. 400-921
Use with GSL393 for performance of GCL610
Use with GSL395 for performance of GCL612

$12.00
Universal external pump kit w/ 3/8 fittings
Installation parts of GCL611 and GCL620

a.k.a. 400-939
Use with GSL392 for performance of GCL611
Use with GSL394 for performance of GCL620

$15.00

'83-'89 Starion/Conquest 2.6L Turbo
'86-'89 Acura Integra 1.6L
'85 Honda Accord 1.8L EFI
'86-'87 Honda Civiic 1.5L EFI
'85 Honda CRX 1.5L EFI
'86-'87 Honda CRX Si 1.5L
'85-'87 Honda Prelude 2.0L
'84-'85 Mazda RX7 1.3L
'84-'88 Mitsubishi Cordia 1.8L Turbo
'84-'88 Mitsubishi Tredia 1.8L Turbo
'83 Toyota Celica 2.4L
Installation parts of GCL616

a.k.a. 400-952
Use with GSL393 for performance of GCL616
$15.00
Replaces Bosch
0 580 254 936
Installation parts of GCL617

a.k.a. 400-962
Use with GSL394 for performance of GCL617
$15.00
---
Please read our Policies
© copyright 1999-2017 Auto Performance Engineering